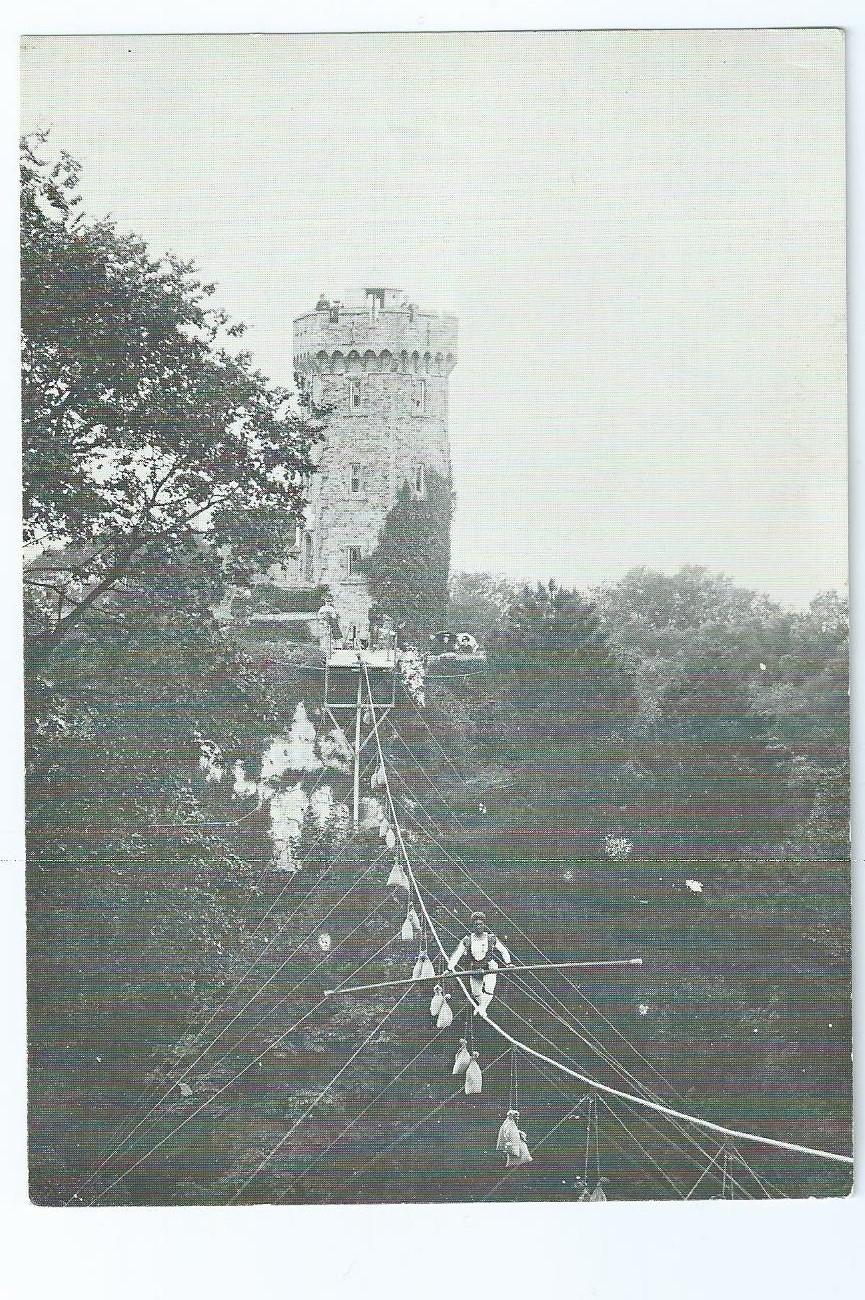 My thanks to Mr. M. Cooter for this African Blondin postcard, it was part of his late father's collection of local items collected over the years.
Ron Howard's DNA Ancestry.com results show :- 2% Cameroon, Congo 1% Mali,1% Ivory Coast/ Ghana and 1% Benin/Togo all other data is shown asUK only.
A Legend " A person whose fame makes him or her seem exceptional." As described in the Collins English Dictionary.
I believe that Carlos Trower is a legend and his contribution to the enjoyment of thousands of spectators should be admired and respected . My quest is to promote and advertise his fascinating story with the help and enthusiasm of past, present and future contributors. My thanks to them all. I have noted a few recent examples below that you may find interesting and added a Publications and Connections paragraph at the bottom of this page.
Sept 2014 A re-enactment of the African Blondin's 1878 Rudyard Lake performance. Ron Howard met tightrope walker Chris Bull "The Great Bullzini" at the Oxfordshire Museum Woodstock to discuss the proposed project under the direction of Paul Green.
Mark Leake on camera recorded this excellent video of a comprehensive days filming that captured the spirit of an exciting venture. Our thanks to David Howells and his Team at the museum for their help in making this occasion such a pleasant Project launch.
November 2014 Chris Bull made a visit to Rudyard Lake to discuss the project with Ray Perry ( Chairman of the Rudyard Lake Trust) and a BBC Radio Stoke reporter. It was agreed that if the plan is supported and approved it will be performed in 2016. An edited version of the meeting can be seen on YouTube (https://www.youtube.com/watch?v=Z-5GY8Wl54s).
14/12/2015 The Team engaged in a partnership with Wild Rumpus, a Social Enterprise based in Cheshire. Wild Rumpus Directors Sarah Bird, Rowan Hoban and Gemma Gibb their Communications colleague published a press release www.dayatthelake.org.uk offering a detailed account of dates, events and a history of Rudyard. Chris Bull, Ray Perry and Wild Rumpus announced the three day, Day At The Lake spectacular.
30/04/2016 A Day At The Lake spectacular. Over the next three days visitors were not disappointed with the entertainment including a symphony orchestra ensemble, Victorian bathing jugglers, Gabby Young a talented singer and Chris Bull The Great Bullzini who made a tightrope walk twice a day over the three day event. Local press and Radio Stoke were there to record the event. Chris The Great Bulzini, gave an outstanding display of skill and showmanship with a re- enactment of the Lake crossing by Carlos Trower many years before. A mesmerized crowd of spectators watched Chris perform his many brilliant skills with a round of applause after every gymnastic movement. Chris completed each walk with a kiss from his wife Phoebe, the crowd enjoyed this tender moment with a loud cheer. A resounding success was completed when the Woodstock team were reunited in the evening. Paul Green presented Ron Howard with Stanley's Summer Visit by Constance Cross published in 1882 that has a chapter headed, The African Blondin. Dr. Paul Green distributed a printed excerpt from his own interpretation of a Carlos poem, 'High Rope' : Contact poet.blondin@gmail.com to order a copy of 'High Rope: See a spectacular performance by Chris Bull on You Tube. A tight rope walk across Rudyard Lake (AMAZING)!!!
Google :- Wild Rumpus / A Day at the Lake from tripledotmaker and enjoy a short You Tube video.
08/11/2014 A Shoreditch and Hoxton ( City of London) walk with Carlos.
Steve Martin historian and author who specialises in the fields of Black British history and literature and Charlie Folorunsho a black British actor kindly invited me to join them on the Missing Chapter history walk, bringing to life notable black individuals living around the area of Shoreditch and Hoxton in the nineteenth century. We met at Autograph - APB Rivington Place Shoreditch, a charity that works Internationally in photography and Cultural identity where we were joined by Adelaide Bannerman the Autograph -APB Archive Project coordinator . Visit Autograph ABP on Facebook to see Charlie as Carlos Trower in his splendid Nineteenth Century attire.
01/02/2015 A special thanks to Alan Brennan of Congleton Staffordshire UK for his advice and valued contribution regarding the Carlos performances at Congleton .
29/05/2016 Ron Howard received an Email from Peter Vickers, a researcher for the ongoing Blackpool Museum Project who is researching the Blackpool circus in the 1870's. Peter Emailed two Blackpool Gazette articles published in 1873 . One article gave an account of the Raikes Hall director Mr. Fish, presenting Carlos with a silver and gold medal in the form of a star embossed on one side, " Presented to Carlos Trower Sept, 29th 1873 by the Directors"
24/10/2016 Author David Slattery-Christy has published a book on the history of Blackpool's lost Victorian pleasure gardens titled: Royal Palace Gardens & History of Raikes Hall. David confirmed that the African Blondin performed at the Gardens and has also compiled a short biography for all the artistes including The African Blondin. My thanks to David and other Blackpool contacts who have taken an interest in The African Blondin. Visit Amazon UK to purchase David's book.
15/08/2017 In reply to a Kent Adult Education Centre proposal, Ron Howard will conduct a free of charge African Blondin presentation celebrating the Kent Black History Month. This presentation is scheduled for Saturday 14th October 2017 Gravesend. My thanks to Michelle and the Kent Adult Education Centre for their kind invitation.
24/08/2017 Ron Howard met Michelle Bramble at the Gravesend Adult Education Centre Darnley Road. It was agreed that the presentation will be held at the Victoria Centre Darnley Road on Saturday 14th October 2017.
14/10/2017 Ron Howard hosted the Kent Adult Education Carlos Trower presentation at the Gravesend Adult Education Centre to a mixed and varied audience. Ron talked about his early days in Elfort Road Islington London including visits to his grandmother, Jynetta Caledonia Trower daughter of Carlos. He also mentioned his initial African Blondin research with reference to the Trower family tree before giving a detailed account of The African Blondin performances including an interesting Fact and Fiction explanation of unsupported theories that have not been proven.
Ron thanked the audience for sharing his story of Carlos and wished the Kent Black History Month every success. 09/02/2018 The William Wilberforce Monument Fund published an excellent Carlos Website article by Lauren Darwin, Gifty Burrows Project Lead for African Stories in Hull and East Yorkshire kindly invited Ron Howard to write an account of how he became interested in Carlos and Family History.
19/03/2018 Gifty Burrows and her Team have published Ron Howard's comprehensive Carlos account. Please visit :- African stories in Hull & East Yorkshire and Select Project - Select Stories - Enter Carlos in the search box - Scroll down to Carlos Lamintine Trower: the African Blondin - 15 March 2018 and enjoy the story. My sincere thanks to Gifty and her Team for a very friendly journey throughout the project.
05/06/2018 Raikes Hall and Royal Palace Gardens Exhibition 2018 14th & 15th September
Ron Howard received an Email from David Slattery - Christy who is organising an exhibition to celebrate the history of Raikes Hall and the Royal Palace Gardens. The event will be held over two days at the Raikes Hall and, apart from being part of the Blackpool Open Heritage Week for the first time, will also include displays from the Blackpool Museum, Blackpool Conservation Office, Strawberry Gardens Local History group, Regent Cinema and David doing a Royal Palace Gardens display. He invited Ron to be a guest, unfortunately due to my advancing years, I decided not to make the long journey. However, David agreed to display the relevant items of interest and photographs that were forwarded via Email. My thanks to David for his continued interest in the Carlos Story.
Publications and Connections
African Stories in Hull and East Yorkshire America and British Theatrical Biography by J.P. Waring Ancestry.com Anglo African Newspapers Vol1 No.18 Autograph - APB Black and Asian Studies association BASA No.62 publication Brooklyn Daily Eagle Circus data base (John Turner) via the National Fairground Archive Sheffield Discover Gravesham, an article by Lynda Smith Fellow Family Tree researchers Gravesend in old photographs. Collected by Robert H. Hiscock Irish Newspaper Archive Kent Adult Education Centre London Calling by Sukhdev Sardhu National Fairground Archive Sheffield New York Clipper New York Times Archive Royal Palace Gardens & History of Raikes Hall by David Slattery - Christy Rudyard Lake website Rudyard Reflections by Basil Jeuda Stanley's Summer Visit by Constance Cross. Includes a chapter on The African Blondin The British Library Evanion catalogue The East of London Family History Society (Cockney Ancestor No. 139). The Era Almanac 1868,1869,1871 and 1899 The Library of Congress The William Wilberforce Monument Fund To prove I'm not forgot by Sylvia M. Barnard UK British Newspaper archive V&A National Art Library